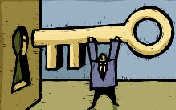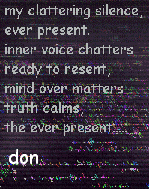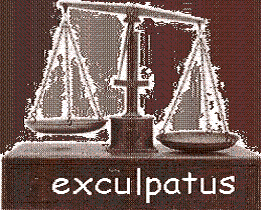 odd


<! .......................put the date in here> March 11th 2006


copyright don oddy

<! ..................... title to Journal page> ~carpe diem not ~

a very difficult day

<! ..........................start writing here> sometimes we all experience difficult days. I am no exception. Nerves raw and feelings close to my surface. Composure not easy to maintain. There is a vulnerability inside me and I am living through it a day at a time.

When we try force experience to fit our view on time to heal, we can brush over and fill cracks in our personality. We make consequences harder for ourselves when we rush our emotional processes. We live in denial and dangerous territory.

Best not to hide and put on a brave face. Better to experience my shit and in doing so get over it. This is not gushing, it is pragmatic.

To go to my grave with a stiff upper lip, I need not have bothered living. To go to my grave with peace of mind, now that feels a better option. A harder road, trodden by the best of us and making for a more complete life.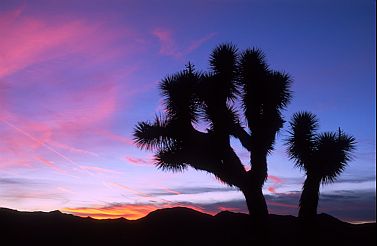 <!On any given day there is good and bad news. We are most likely powerless over the news and what it brings to our day. The good news is as important as the bad, yet we find most news definitely has some tragic quality for some or many we hear about in the the 'news'. There is attraction to and curiosity about our human doings. I am struck by the nature of news. We get it from all sources, media, friends and family. We get so much its hard for us sometimes to deal with the big and small snippets our memory selects. Our memory selects and replays according to our mood, our mind's eye. Often the mood selects memories to reinforce our unique view as the times and events bring more texture to our recollections. How to set yours news and mood, to make good the day is your affair and helps assist how we are feeling in our own world. Time comes to make sense of it, and thats another journey.> <!Therefore if Nature has planned the human body so that the members correspond in their proportions to its complete configuration, the ancients seem to have had reason in determining that in the execution of their works they should observe an exact adjustment of the several members to the general pattern of the plan. Therefore, since in all their works they handed down orders, they did so especially in building temples, the excellences and the faults of which usually endure for ages.>